Lentšu News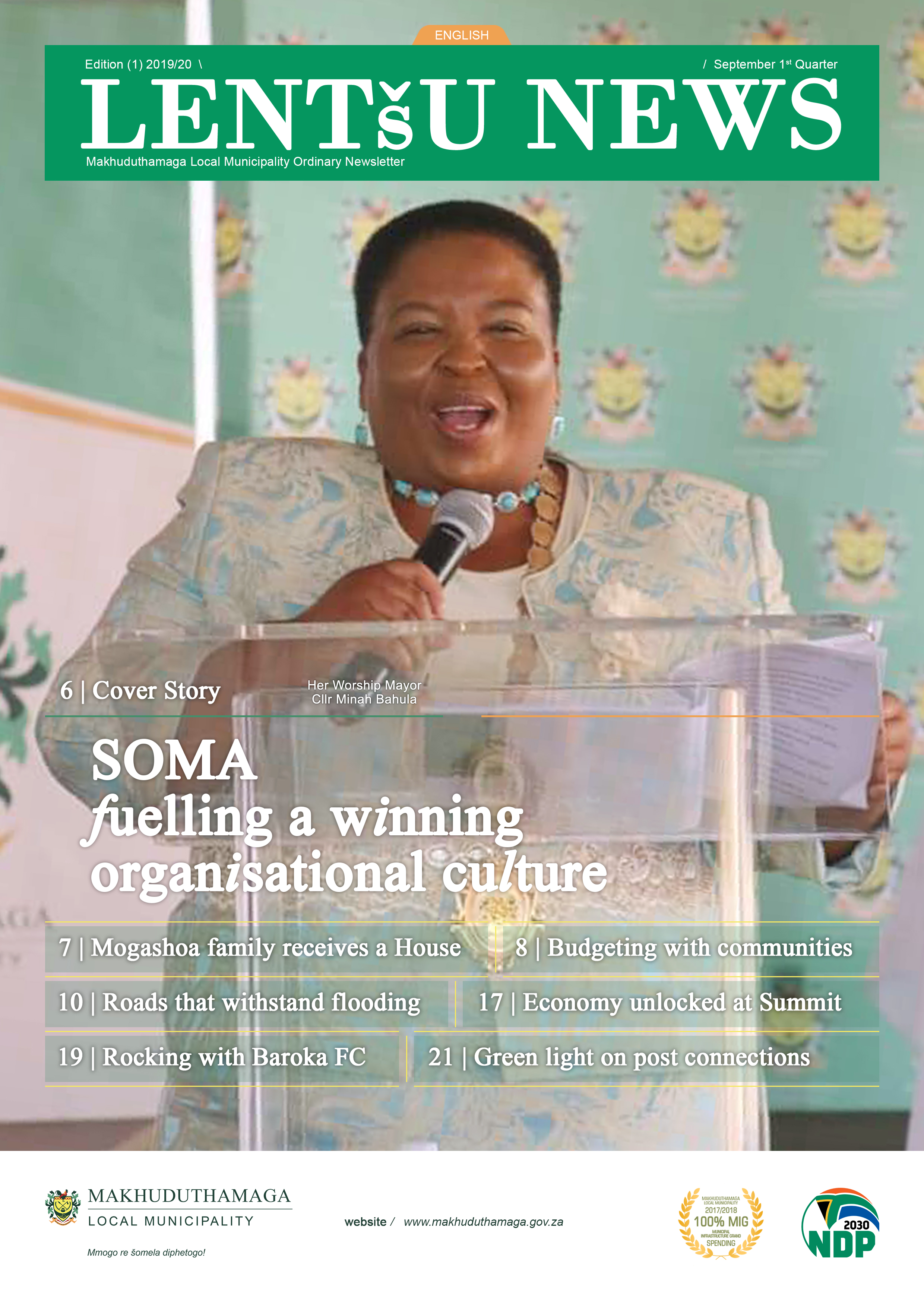 Lentsu News Edition (1) 2019/20 September, 1st Quarter
Putting our service delivery vehicle on the top gear
President Matamela Ramaphosa gave a resounding caution to all government leaders and public officials as he highlighted the irrefutable power of a ballot on 08 May 2019 as South Africans declared the dawn of a new era. And that they have chosen hope over hopelessness, they have opted for unity over divisions. He called on us all to give effect to their (voters) mandate to foster unity and renewal.
In Makhuduthamaga we have taken this message to heart by putting our service delivery vehicle on the top gear. We are doing this by ensuring that our people see for themselves and experience how the municipality works. We began this by taking crucial council processes to communities, as an example the State of the Municipality Address (SOMA) in Ga-Moloi and Budget Speech in Marulaneng. During these important community meetings (council meetings by legislation) we demonstrate results on how we are tackily corruption, and abuse of political and administrative power, and that such would not be tolerated. We continue to show our communities how we tighten the fight against corruption which robs vulnerable and poorest of the poor services and opportunities. We will ensure that all cases of corruption are dealt with expeditiously and ensure transparency in the work of the municipality, especially procurement processes.
To demonstrate our seriousness about transparency we are the only municipality in the whole of South Africa that partnered with The Hawks to celebrate Mandela 101 birthday in Diphagane. We have done this with a clear conscience while the mention of the work 'The Hawks' strikes fear in the hearts of many. We continue to work with communities through partnerships in sport, in schools and being in the front lines of the war against hunger and poverty. We have done so in Apel Cross when we partnered with bikers to mobilise society to fight hunger in neighbourhoods across the municipality. We congratulate the African National Congress at national and provincial level for being given the mandate, full confidence and trust to do the work of growing South Africa. Special congratulations to MEC Namane Dickson Masemola of Roads and Community Safety and MEC Monnica Mochadi of Public Works and Infrastructure. With five-year term ahead of this leadership collective, the promising new programmes, processes and plans to be pursued with renewed energy and allowed to flourish.
In the same breadth I congratulate all Members of Parliament in the National Assembly, the National Council of Provinces and Members of Provincial Legislature who represent the people of Makhuduthamaga in the legislative and executive capacities. To them all we say, let's be the torchbearers and trailblazers. Let your work reflect the unique passion that Makhuduthamaga in known for in the face of the world. Ke a leboga!
Mayor Cllr Minah Bahula,
Makhuduthamaga Local Municipality
Lentsu - Ordinary Newsletter - Sep 2019 - English Version