The Mayor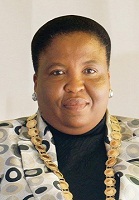 Cllr Minah Bahula
The Mayor
Performs the duties and exercise the powers delegated in terms of section 59 of the Municipal Systems Act;
Ensures compliance in the Council and council committees with the Code of Conduct set out in Schedule 1 of the Municipal Systems.
Maintain order during meetings;
Ensures that the Council meets at least quarterly;
Ensures that Council meetings are conducted in accordance with the Standing Rules Of Order of Council.
To ensure that a forum of councillors is present before a vote is taken (section 30(1)).
To determine in consultation with the Municipal Manager the manner and form in which minutes of meetings of the Council shall be kept.
To sign the minutes of a Council meeting after adoption thereof by the Council as proof of such adoption.
To determine as far as reasonably practicable, the lay-out of a venue in which a meeting of the Council will take place.
To obtain legal opinion, subject to an amount budgeted by Council for this purpose, regarding:
The convening, quorum, procedure and conduct of a meeting of the Council;
Any matter arising from the duties of the Speaker in item 13 of Schedule 1 of the Municipal Systems Act.
To have access to all records of Council and to interview any member of staff or other person and to obtain copies of documents and obtain affidavits, in the course of an investigation under item 13 of Schedule 1.
In an instance of incapacity of the whole of the Executive Mayoral to perform such delegated powers of the Executive Mayor set out herein, until the Council has taken a resolution on the matter at an urgent special meeting of the Council to be convened by the Speaker in terms of the Rules of Order.
To act as member and chairperson of committees such as the Appeals Committee, the Ethics Committee and Rules Committee, if such committees are established, as determined by Council.
Ensure that the provisions in respect of privileges and immunities of Councillors, as set out in S28 of the Structures Act or any other applicable legislation are adhered to.
Ensure that ward committees meet regularly, if any and that councillors report o their constituencies at least once during every three months.